62 x served & 66 x viewed
My name is Pet­ter Kolseth and I'm a Future Strategist!
My com­pany has the some­what strange name nsieme con­sult­ing. The Itali­an word insieme has the mean­ing togeth­er, as in togeth­er with my cus­tom­er.
I worked earli­er on for many years as a research­er in paper and print. First at the Swedish Pulp and Paper Research Insti­tute – now Innven­tia, and later for the Stora Enso paper com­pany. My work at Stora Enso gradu­ally became focused on how ink on paper is being influ­enced by new digit­al media. When Stora Enso closed its Research Centre in Falun, it felt nat­ur­al for me to engage in trend track­ing and scen­ario ana­lys­is. So I took a course at Kairos Future to become a future strategist.
My task as a future strategist is to guide my cli­ent through a pro­cess, where the cli­ent is doing as much work as I in a series of work­shops on trend track­ing, scen­ario ana­lys­is, and strategy devel­op­ment. My con­tri­bu­tion also includes an account of the res­ults of each work­shop, and push­ing the pro­cess for­ward between work­shops.
I'm also gladly giv­ing inspir­a­tion­al present­a­tions on what's going on around us, espe­cially with­in graph­ic com­mu­nic­a­tions and digit­al media, where the devel­op­ment is vir­tu­ally explod­ing. What I presen­ted a year ago has already at least in part become out­dated.
You may con­tact me via e-mail at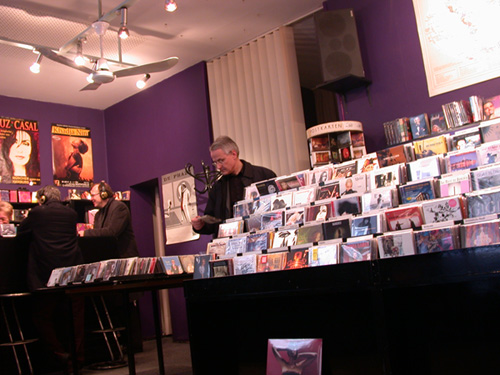 Good CD stores were my pas­sion. The pic­ture shows me check­ing out music at the Shirokko shop in München. It is next door to my favour­ite hangout Bar Cent­rale… I have included a video here.