622 x served & 98 x viewed
Ninni Lindertz, Seni­or Mar­ket­ing Strategist at Face­book Nor­d­ic, gave an inspir­a­tion­al talk at the "Guldäg­get inspirerar" event. Ninni put for­ward bowl­ing as an example of how mar­ket­ing used to be done. Tak­ing a full-size bowl­ing ball and try­ing to strike down as many pins as pos­sible in one go. In a world of Social Media, bowl­ing is not a pre­ferred strategy. She men­tioned Nike's Write the future ad that first appeared on their Face­book page. Not being the offi­cial spon­sor, one might still say that Nike won the brand­ing cham­pi­on­ship. Accord­ing to Busi­ness Week, Nike's chief mar­ket­ing officer Dav­ide Grasso has stated that Face­book "is the equi­val­ent for us to what TV was for mar­keters back in the 1960s." The takeaway is that mar­keters should no longer try bowl­ing, but going social by design. A work­ing meta­phor would be to play the pin­ball game.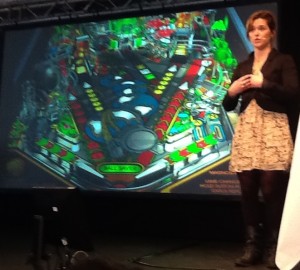 För svenska läsare finns Nin­nis present­a­tion på Vimeo.